What Are Smart Buildings?
Smart buildings integrate sensors and controls that connect all of the core building systems (lighting, appliances, plug-loads, heating and cooling systems, renewable energy generation, energy storage systems, etc.) to a centralized management system. Each part of the building communicates with a central hub to respond and adjust to changing conditions in order to maximize energy efficiency, comfort, and productivity.
Although each individual component in a smart building is important, the key attribute of a smart building is that each of these energy saving components work together. What makes a smart building "smart" are the integrated sensors and controls that connect all of the building systems to the centralized control and monitoring systems. Smart buildings revolve around a platform of open access to information. The integrated structure of the building management system is critical to optimizing the flow of energy within the building.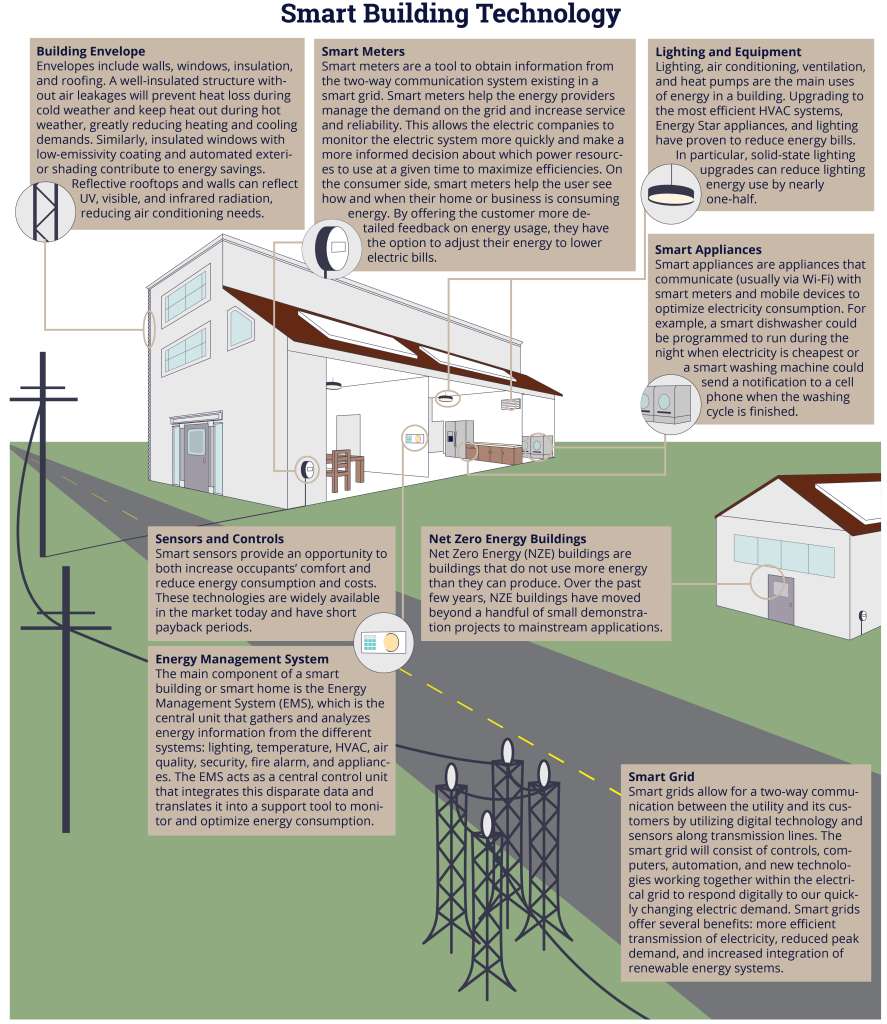 Rising Demand Across the Globe
The trend towards dynamic energy efficient buildings presents tremendous opportunities for companies to be on the cutting edge of sustainable building design. The global market for smart homes and buildings is expected to grow to more than $35 billion by 2020.  Significantly, $12.4 billion of this market is expected to be in North America and the sector is expected to grow at more than 25 percent per year. This growth is attributed to government regulations, rising energy costs, and increasing environmental awareness.
Cost Reductions
Smart building component costs have decreased over the past few years, making average return-on-investment (ROI) payback periods on smart building upgrades very short — 2 years in many cases. In addition to the paybacks from reduced energy expenditures, smart buildings have numerous indirect benefits: increased comfort in homes and offices; increased productivity of workers due to greater comfort; efficiencies in water use; better integrated security systems; and emergency detection of fires or other dangerous situations.
Constructing a Smart Building
The first step towards constructing a smart building is to reduce the building's energy needs through the use of advanced construction materials and efficient equipment. Retrofitting both the interior core building systems and the exterior building envelope maximizes energy efficiency.
The second step is to install sensors and controls within the structure to measure performance in real time (temperature, occupancy, air quality, etc.) and a central control unit that is able to analyze the information.
The final step is to enable two-way communication between the building and the electrical grid, to take advantage of real-time pricing. Linking all of the building systems together through a central management system is a critical component.
Careers Available in the Smart Building Industry
Jobs from smart building planning and construction encompass a wide range of professions, including:
Building operator

Building energy auditor

Urban and regional planner

Architect (general and landscape)

Software developer and technician

Electrical engineer and technician

Mechanical engineer and technician

Construction manager

Construction equipment operator

Construction laborer

Electrician

HVACR mechanic and installer

Insulation worker